SHIVANI THAKUR, Dr. NAMRATA GAIN, CHITRANSH SONI
Shivani Thakur is currently working as Assistant Professor in Janki Devi Memorial College, University of Delhi. She has vast teaching experience and has specialization in Financial Management, Entrepreneurship, Human Resource Management, Marketing and other subjects in commerce. She has published papers in various refereed, peer-review, ABDC C journals. She has also presented papers in various national and international conferences. Her research interest includes corporate social responsibility, corporate governance, social media, finance and accounting. She has also completed executive certificate programme in "Data science and machine learning using R and Python" from Indian Institute of Management Raipur.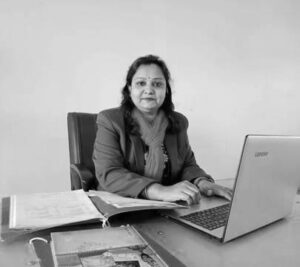 Dr. Namrata Gain has a Bachelor's Degree in Commerce and a Master's Degree with dual specialization in Marketing Management and Financial Management from the RDVV, Jabalpur, M.P. Here she studied the diversified aspects and importance of research and that was the turning point in her educational life, she did M. Phil in Marketing Management and continue her research by enrolled for the Ph.D. Program from the /Barkatullah University, Bhopal, M.P. Since 2008 she joined B-School as Assistant Professor, and currently she is working as Associate Professor in Bharti Vishwavidyalaya, Chhattisgarh and looking after all the academic research-related activities as Coordinator in research cell. She has published more than 15 national and international research papers in various prestigious research journals and book chapters published by MacMillan. From her childhood, she was very active in extracurricular activities like N.C.C. and Bharat Scout & Guide. She received awards from the Governor, M. P., and President of India in the year 2000. She has the interest to develop new models in the field of consumers' behavior and core concept in marketing management. Apart from the educational teaching in the UTD, she is Editor-in-Chief at IJMPC.
To prepare India for a knowledge-based future, the government has launched Digital India. Hon. Shri Narendra Modi, India's Prime Minister, has placed a priority on the country's national e-governance plan and approved the initiative known as Digital India, which aims to convert the country into a knowledge economy and digitally empowered society.
Government of India's ambitious effort, Digital India, is budgeted at Rs.1,13,000 crores. By coordinating and synchronizing interaction with the Central Government and State Government, this will be done to empower citizens with exceptional governance capabilities and prepare India for a knowledge-based transformation.
The Ministry of Rural Development, Ministry of Communications and Information Technology, Ministry of Human Resource Development, Ministry of Health, and other ministries will be affected by this initiative, which was envisioned by the Department of Electronics and Information Technology (DeitY). Additionally, all states and union territories will gain from this scheme. The current and continuing e-Governance efforts would be redesigned to conform to the Digital India guiding principles. The goal of Digital India is to make the nation into a knowledge-based economy and society. It would guarantee that citizens have access to government services online. Additionally, it would increase public accountability by requiring the internet delivery of government services.
Need a successful project?